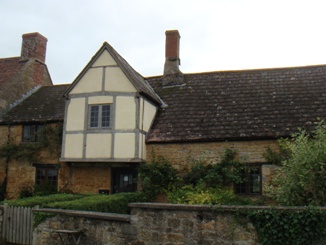 HISTORY OF COCKHILL
1. INTRODUCTION
The old farmhouse at Lower Cockhill lies on the east bank of the River Cary about a mile south of the Somerset town of Castle Cary.
Built in the fifteenth century, probably in 1435, it has undergone many alterations during the centuries. However it has still retained, in its main part, its original basic design. This was a simple three roomed building, comprising a hall, a private room beyond and, on the other side of a cross passage to the hall, a 'services' room – probably essentially a kitchen.
The old farmhouse is of historical interest as it has kept its original layout more fully than have most surviving small domestic buildings of that period. As well as this, it also has two other features that give it particular attraction. The first is the roof of the hall. This retains its original crucks and windbraces. Their carpentry is of an unusually high standard for a modest domestic building, suggesting that this farmhouse had some special purpose. Equally intriguing is a slightly later addition. This is the jettied room that projects to the front of the building at first floor level. It is believed to have been added circa 1480-1500. This small room has particularly high quality woodwork in its ceiling – including a fine carving of a six-petalled rose. Even more extraordinary are the somewhat primitive wall paintings that are found in it. These are of a religious nature, being full of Christian symbols. It is believed that the room must have been an oratory or a chapel. But why should a relatively modest farmhouse have such a room?
[Further text to follow]